Let your jewelry be an extension of your unique beauty.

Delicate but durable, simple yet lyrical, each piece is designed to sit comfortably on your skin. 


Your Jesse Mixer design is something you can wear anywhere or with anything, from romantic nights out on the town, to the most casual and laid-back days in the garden. Some of my lovely customers have even told me they never take theirs off!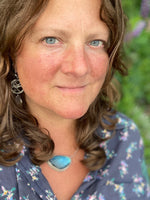 Hello and thank you for being here.

Creating beautiful treasures that people will cherish for their lifetime is one of my favorite passions.
I've been a creator since I was a little girl, but jewelry has always been my number one: I started out stringing beads on toothfloss and pretending I was a magical princess in my mom's and Grammie's jewels. I grew up in the beautiful White Mountains of NH and spent many days wandering the fields and tangled woods around our hilltop house-often cloaked in an orange bedsheet with a book or sketchpad tucked in my waistband. Not much has changed (though I am on the hunt to replace the sheet with a wool cloak-preferably not orange). The magic of my landscape is imbued in what I am creating. These days, when I'm not in the studio, I can be found in my garden, enjoying good food, daydreaming or taking long and wondering strolls through nature's beauty. Curiosity and wonder are two of the things I like most about myself.

Get to know me
Here's what some of my customers have said...
This necklace is so beautiful. The workmanship is outstanding, and it's the perfect size with lovely accents. Thank you!

Carla
Beautiful, as usual. This was a gift for my mother and she hasn't taken it off since she opened it. It shipped quickly, & Jesse let me know when it was in the mail.

Laura
I'm always happy with Jess' work. Jewellers come a dime a dozen, but she really is the real deal. Her jewelry is incredible. Can't wait to give this as a holiday gift!

Anna