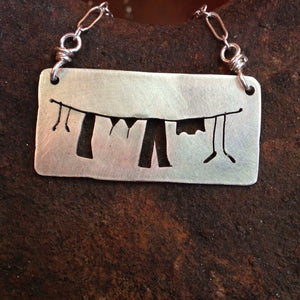 Ahhh, the crisp smell of fresh, air-dried laundry. Is there anything better? Even just the look of colourful clothing and linens clipped to a line in the sunshine is one of life's simple pleasures! It can remind us of what truly matters in life: a roof over our heads, the sun on our skin, the clothes on our backs, and the sounds and smells of a sweet summer day.
This pendant is hand-drawn and hand-cut onto recycled sterling silver. The finished piece has a velvety-soft feel, thanks to gentle sandpapering. It's both delicate and durable, perfect for everyday wear, and definitely a conversation starter!
1" long x ½" tall
18" sterling silver chain
Other clothing options possible — please message me here if you have a request!
Ready to ship. Comes with a gift bag for easy gift-giving. Shipping is free and uses recycled materials!