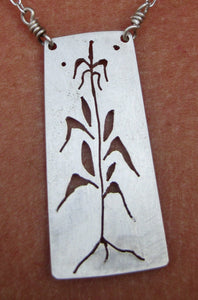 Corn — or maize, as it's often called — is a symbol of abundance, fertility, and creativity. It's considered sacred by cultures across the world, particularly in the Americas, and has nourished communities for millennia. On this piece, the maize is being visited by two bees, which are also symbols of prosperity, collaboration, and joy.
To create this piece, I first draw the design onto recycled sterling silver before drilling a teeny hole or holes into it and inserting the world's smallest saw blade. I am then able to cut out my illustration using a jeweler's saw. I finish the pendant by filing and sanding it, so that it has a satiny-smooth, rustic-looking finish.
I want my jewelry to feel like a well loved treasure when you receive it-as if you pulled it from your mom, grandmother or a beloved auntie's jewelry box. 
1.25" long x .75" wide
Sterling silver
Hand-wrapped silver wire
Chain length of your choice
Precious & semi-precious gems can be added for an extra cost; please message me here.
Ready to ship. Comes with a gift bag for easy gift-giving. Shipping is free and uses recycled materials!