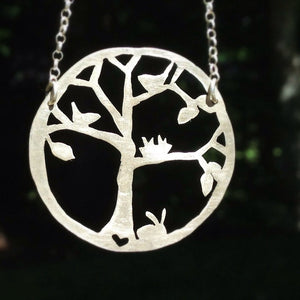 At a recent art fair, someone asked me if it would be possible to design a Tree of Life — an iconic archetype in mythologies across the world — but this time, with actual life in it! I loved the challenge, and the result is one of my largest designs yet, that's both bold and dainty all at once. 
This piece was created by cutting and piercing, using a tiny saw blade, the hand-drawn image into a sheet of recycled sterling silver, sourced from an environmentally-friendly refinery. The piece is then sanded to create a finish that's both smooth and rustic. 
🌙
1.5" in diameter
18" sterling silver chain with sterling lobster claw
🌙
Ready to ship. Comes with a gift bag for easy gift-giving.
Shipping is free
and uses recycled materials!