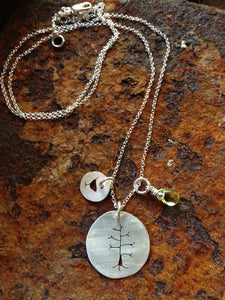 Birdsong and rustling leaves: the sweet sounds of spring! Keep a little piece of nature with you wherever you go with this simple charm necklace. Delicate yet durable, it's perfect for everyday wear. 
Two charms — the bigger with a simple tree silhouette, and the smaller with a cute little bird — are hand-drawn and hand-cut into recycled sterling silver, sourced from a green refinery. The third charm is a small, faceted Peridot briolette. 
If you'd like, the charms and gemstone can be swapped out for different options. Please contact me here if you're interested!
🌙
Tree: 1.5mm diameter
Bird: .5mm diameter
18" sterling silver chain
🌙
Peridot is a harmonious and joyful stone that attracts peace, prosperity, and protection to its wearer. It's said to bring balance and compassion to relationships, and can open the heart to happiness. Peridot carries the wisdom that abundance flows to us not when we push and shove, but when we gracefully follow the calling of our hearts.
🌙
Ready to ship. Comes with a gift bag for easy gift-giving. Shipping is free and uses recycled materials!